Note: This page is for official Competition Rosters that will be decided by me personally, and used in actual battles.
Slagar's Gang:
The Compulsory HQ, Elites and Troops. But Mainly,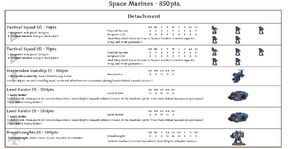 Space Marines
Stormtalon
Dreadnought
But it won't be as much as my other team, the
Recombinant Exterminatus:
Space Marines
Stormtalon
2 Land Raiders

Dreadnought
Overall the competition rosters will cost about £200 each, but it doesn't really matter. As I will still buy them and use them as Competition Teams. However, I do not know how 7th edition rosters work as I have only read the 6th edition rosters. However, the Apocalypse rules say that you can use any roster, even fielding units in the hundreds.